Youth Ministry
Holy Name, Our Lady of Sorrows and Holy Family Youth Groups are combined for the 2023-2024 school year for a variety of activities and projects.
Students in grades 7-12th are welcome to our monthly meetings/gatherings for fun projects and activities. 
Youth Group Schedule has changed.  Youth from all of our Lady of Peace churches as invited and welcomed!
December Meeting
The next youth group event will be December 16th 1-3 at the Hope House. They will be getting Christmas presents ready for the residents. They will need to fill out permission slips. RSVP by Dec 13th so that we have a head count. Adult members of our parishes are welcome to, but must also RSVP.
If you are new to Youth Group, please contact Rebecca Lewis at 513-505-5350 for a Permission Form (must be completed before attending).
Photos from 2023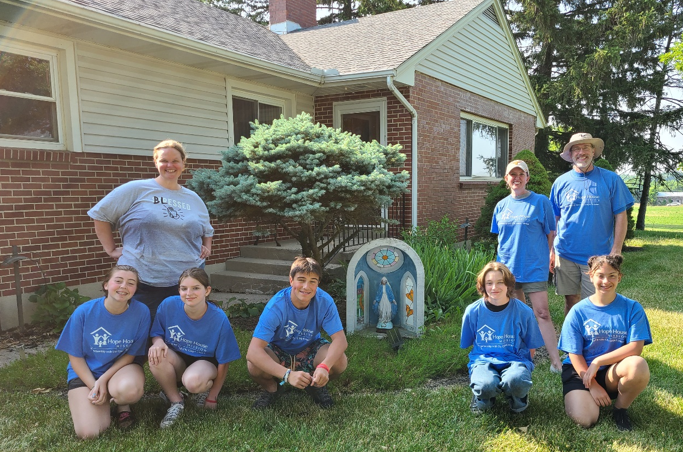 Youth Group - 
On June 9-10, the Youth Group participated in a local Mission Trip and Lock-in. These amazing young people laid over 300 bags of mulch and painted a classroom at the Hope House Men's Center. By taking on the beautification project, this not only allows the residents to live in dignity, but also allows the Hope House to allocate the money they would have spent to other needs. The youth group also grilled lunch for the residents and their children at the Hope House Women's Center. In our "down-time" we enjoyed bowling, games, movies, and fellowship. We were blessed to end our time together with swimming, boating, and a tractor ride at Mike and Connie Schenck's beautiful farm. We also owe a very special thank you to Ken, Debbie, and Katie Peter and Dakota Salyer for donating their time, talents, and treasures to help make this all possible.
Holy Name's youth ministry is very involved in community service projects and parish activities. They have participated in food drives, outreach meals and mission trips.
Holy Name youth has had an annual mission trip to Frenchburg and Owensville in Kentucky for service projects and fellowship.