Monday, December 9, Immaculate Conception of the
Blessed Virgin Mary
"The most Blessed Virgin Mary was, from the first moment of her
conception, by a singular grace and privilege of Almighty
God and by the merits of Jesus Christ, Savior of the human
race, preserved immune from all stain of original sin." -
Cathechism of the Catholic Church, 491
Tuesday, December 10
Isaiah 40:1-11 Psalm 96:1-3, 10-13 Matthew 18:12-14
"It is no part of your heavenly Father's plan that a single one of
these little ones shall ever come to grief." - Matthew 18:14
Wednesday, December 11 - Pope St. Damasus I
Pope St. Damasus I encouraged his secretary Jerome to
study the Scriptures. Ultimately, this led to the Vulgate,
the Latin translation of the Scripture.
Thursday, December 12 - Our Lady of Guadalupe
Our Lady of Guadalupe apperared to Juan Diego in a small village
near Mexico City. She showed herself to him as one of the native
people: as the Queen of all people. As a result, over nine million
Indians became Catholic in a very short time.
Friday, December 13 - St Lucy
St. Lucy, who lived in Sicily, bravely won a martyr's crown
under the yoke of Emperor Diocletian's persecution.
Saturday, December 14 - St. John of the Cross
St. John of the Cross, who spent time imprisoned for his reform efforts,
understood the cost of discipleship.
Sunday, December 15 - Fourth Sunday of Advent
Isaiah 35:1-6, 10 Psalm 146:6-10
James 5:7-10 Matthew 11:2-11
"They will meet with jou and gladness, sorrow and mourning
will flee." - Isaiah 35:10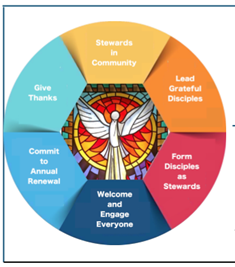 HOLY NAME OF JESUS
Class – STEWARDSHIP IS A WAY OF LIFE – "Grateful Disciples – Your Parish Stewardship Guide" by Leisa Anslinger
Please RSVP to Connie Schenck – SchenckFam26@gmail.com or call the office 513-988-6335. Classes will meet in the Parish Hall.
| | | |
| --- | --- | --- |
| | Thursday, January 9, 2020 – 7 pm | The Vision: STEWARDS IN COMMUNITY |
| | Thursday, February 13, 2020 – 7 pm | LEAD GRATEFUL DISCIPLES |
| | Thursday, March 12, 2020 – 7 pm | FORM DISCIPLES AS STEWARDS |
| | Thursday, April 9, 2020 – 7 pm | WELCOME AND ENGAGE EVERYONE |
| | Thursday, May 14, 2020 – 7 pm | COMMIT TO ANNUAL RENEWAL |
| | Thursday, June 11, 2020 – 7 pm | GIVE THANKS. BE ACCOUNTABLE. |
INTERESTED IN BECOMING A CATHOLIC? - Contact Deacon Larry Gronas (513) 502-6266. Classes begin Tuesday, August 20 at 6:30pm in the church basement
FOR YOUTH GROUP MINISTRY, CONTACT Pam Hurley (513) 374-0332
Confirmation
On Sunday, April 19 at 2:00 the Sacrament of Confirmation will be celebrated at St. Peters In Chains Cathedral in Cincinnati. This year Holy Name will be offering the sacrament to all 7th as well as all 8th grade students of families registered in the parish. Please contact Pam Hurley if you have a child who would qualify as a candidate for confirmation.
Contact: p.a.hurley@sbcglobal.net or (513)374-0332.
We Remember, We Celebrate, We Believe
We remember how you loved us to Your death,
and still we celebrate, for You are with us here.
And we believe that we will see You when You come in Your glory, Lord,
We Remember, We Celebrate, We Believe.