Tuesday, February 11 - Our Lady of Lourdes
In a series of private revelations, a mysterious "lady" visited
St. Bernadette in 1858 and revealed herself as the
Immaculate Conception. Many thousands of miraculous healings
then followed at Lourdes, France.
Our Lady of Lourdes, pray for us!
Wednesday, February 12
1 Kings 10:1-10 Psalm 37:5-6, 30-31, 39-40 Mark 7:14-23
"Commit to the Lord your way; trust in Him, and He will act." -Ps 37:5
Thursday, February 13
1 Kings 11:4-13 Psalm 106:3-4, 35-37, 40 Mark 7:24-30
"Happy are they who observe what is right, who
do always what is just.." - Ps 106:3
Friday, February 14 - Sts. Cyril & Methodius
Sts. Cyril & Methodius were brothers and great missionaries to
the Slavic peoples of Eastern Europe. St. Cyril devotely translated the
Bible and liturgical texts into Slavonic.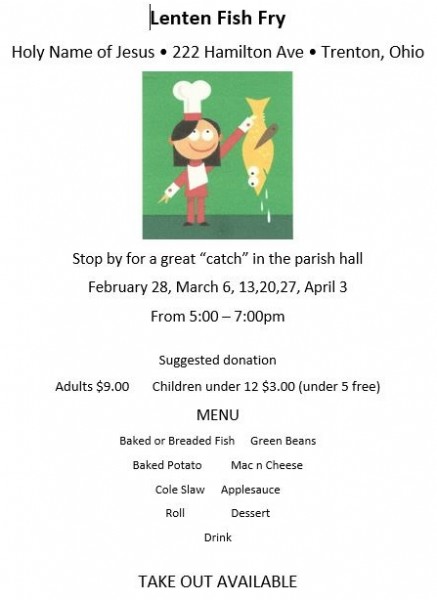 Job Posting
Title: Director of Music Ministry
Location: Holy Name of Jesus Catholic Church
Job Information:
Holy Name of Jesus Catholic Church (Trenton, OH) is seeking a part time Director of Music Ministry to serve our parish of 200 families. The Director of Music Ministry plans & leads music for 3 weekend liturgies, all holy day liturgies, and special liturgies as needed (including All Souls evening prayer & First Communion). When requested will provide music for funerals and weddings for additional compensation. The Director of Music Ministry will hold choir rehearsal outside of Mass times and conduct the choir during weekend liturgies and on holy days. Will attend staff meetings for liturgical planning. Will be responsible for scheduling maintenance of sound equipment and music equipment when needed. Successful candidates will be proficient in organ/keyboard & have strong vocal skills. Must be a practicing Catholic with a strong liturgical knowledge as evidenced by experience in liturgical music ministry and/or formal training credentials. Must have the ability to lead the congregation in praise through music and direct & recruit volunteer musicians (choir, cantors & other musicians). Will be familiar with the operation of professional sound equipment. Must pass a background, reference and criminal check & be VIRTUS trained or successfully complete VIRTUS training prior to employment. Please submit resume and cover letter to Fr. Paul Gebhardt, fpghnls@gmail.com or mail to Holy Name of Jesus, 222 Hamilton Ave, Trenton, OH 45067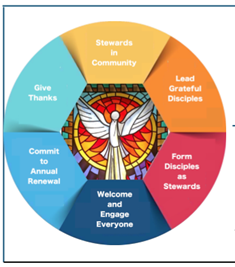 HOLY NAME OF JESUS
Class STEWARDSHIP IS A WAY OF LIFE "Grateful Disciples " Your Parish Stewardship Guide" by Leisa Anslinger
Please RSVP to Connie Schenck SchenckFam26@gmail.com or call the office 513-988-6335. Classes will meet in the Parish Hall.
| | | |
| --- | --- | --- |
| | Thursday, January 9, 2020 7 pm | The Vision: STEWARDS IN COMMUNITY |
| | Thursday, February 20, 2020 7 pm | LEAD GRATEFUL DISCIPLES |
| | Thursday, March 12, 2020 7 pm | FORM DISCIPLES AS STEWARDS |
| | Thursday, April 9, 2020 " 7 pm | WELCOME AND ENGAGE EVERYONE |
| | Thursday, May 14, 2020 7 pm | COMMIT TO ANNUAL RENEWAL |
| | Thursday, June 11, 2020 7 pm | GIVE THANKS. BE ACCOUNTABLE. |
INTERESTED IN BECOMING A CATHOLIC? - Contact Deacon Larry Gronas (513) 502-6266. Classes begin Tuesday, August 20 at 6:30pm in the church basement
FOR YOUTH GROUP MINISTRY, CONTACT Pam Hurley (513) 374-0332
Confirmation
On Sunday, April 19 at 2:00 the Sacrament of Confirmation will be celebrated at St. Peters In Chains Cathedral in Cincinnati. This year Holy Name will be offering the sacrament to all 7th as well as all 8th grade students of families registered in the parish. Please contact Pam Hurley if you have a child who would qualify as a candidate for confirmation.
Contact: p.a.hurley@sbcglobal.net or (513)374-0332.
We Remember, We Celebrate, We Believe
We remember how you loved us to Your death,
and still we celebrate, for You are with us here.
And we believe that we will see You when You come in Your glory, Lord,
We Remember, We Celebrate, We Believe.
Daily Mass at Holy Name
Our Lady of Sorrows
Holy Days
Adoration at Holy Name
Reconciliation
No items are available at this time.