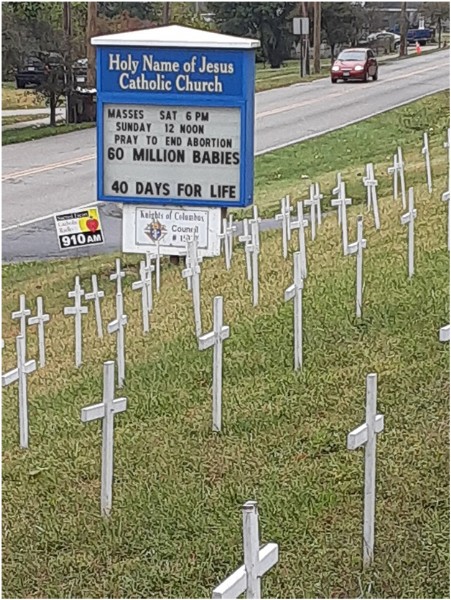 October is the month of the Rosary as well as Respect Life month. Many rosary campaigns are currently ongoing to pray to end abortion as well as to end the current Covid-19 pandemic and to pray for our up-coming elections. Pray, Pray, Pray!
Fr. Paul's Homily Oct 24-25, 2020
State of Our Parishes Click here


Thank You!
"Unexpected" does not always mean "unwanted." Jesus Himself was unexpected; Mary, betrothed but not yet married, could not have anticipated the angel Gabriel's salutation. "Hail, full of grace, the Lord is with you!" When asked to bear the Son of God, Mary responded, "Behold, I am the handmaid of the Lord; let it be done to me according to your word."
Although Mary had to face many sorrows and hardships because of her "yes," Mary found consolation in the grace and love of God. Her song of praise and gratitude, spoken when visiting her relative Elizabeth, is found in Luke 1:46-55. "My soul magnifies the Lord, and my spirit rejoices in God my Savior…."
The women we serve do not bear the Christ Child as Mary did. However, the children in their wombs are made by God, "Before I formed you in the womb I knew you, and before you were born I consecrated you" (Jeremiah 1:5). They are image-bearers, infused with dignity by their Creator. Through gentle and loving guidance, we work each day to help women to say "yes" to the new life growing within them. Their unexpected pregnancies become a cause for thanksgiving and joy, and many of our clients later reflect on how their child is their greatest blessing.
Through your donation, you bless us with the opportunity to continue helping women to say "yes" to life. Thank you for your generosity and your support of this ministry!
On

9/1/2020

your gift of

$467.00

was received.
Click here to read Father Paul's recent letter to parishioners on restarting
public Mass at Holy Name of Jesus.
To join our Facebook group click, "Holy Name of Jesus Parish" for more news and information!
We Remember, We Celebrate, We Believe
We remember how you loved us to Your death,
and still we celebrate, for You are with us here.
And we believe that we will see You when You come in Your glory, Lord,
We Remember, We Celebrate, We Believe.
Weekends:
Saturday Vigil Mass 6:00 pm
Sunday 12:00 pm
Weekdays:
Wednesday 8:30am
Thursday 8:30am
Adoration:
Thursdays 9am-9pm
Confession:
2nd & 4th Wednesdays
of the Month 6:30-7:00
in the Parish Hall.
(Pull car up to the door and leave it there while you go inside for confession. When finished, move your car out so another may take your place,)


October 28, 2020 - Confessions Confessions in the Parish Hall.
November 4, 2020 - FORMED Series FORGIVEN
November 11, 2020 - Confessions In the Parish Hall