Lent 2021
Stations of the Cross - Fridays at 7:00 pm
Confessions during Lent, 6:30-7:00pm:
Wednesday, February 24,
Wednesday, March 10,
Tuesday, March 16 and
Wednesday, March 24
Holy Thursday, April 1 No Mass (7:00 pm OLOS)
Good Friday, April 2 (a day of Fasting and Abstinence)
- Stations of the Cross: 12:00 pm
-Liturgy of the Lord's Passion: 1:00 pm
Holy Saturday, April 3 No Mass (Easter Vigil Mass: 8:45 at OLOS)
Easter Sunday, April 4 Mass: 12:00 pm
Holy Name will not be hosting our annual Lenten fish fries due to the continuing Covid-19 pandemic restrictions. Check with the Catholic Telegraph for locations of fish fries and support our neighboring parishes.
Save the Date!
Mark your calendar for Saturday March 20,
starting at 9:30 until 3:30. Join us for a family event: We will follow, a day of reflection and service. There will be service projects and
stations of the cross. We will be contacting families to enlist their participation. There are
flyers and registration forms in the back of church. Please take one and get your family
registered for this event."
Contact Pam Hurley with questions.
Clothing and Food Drive: We will follow, a day of reflection and service
Spring is just around the corner and it is time to clean out those closets. Volunteers from the We Will Follow, a day of Reflection and Service are organizing a clothing drive and food drive. Drop off boxes will be stationed at the back stairway in church and one in the parish hall starting March 6. If you have items to donate and are not able to drop them off at church volunteers can come and pick them up at your home. Please help us make this a successful service project for the families participating. Contact: Pam Hurley (513)374-0032 p.a.hurley@sbcglobal.net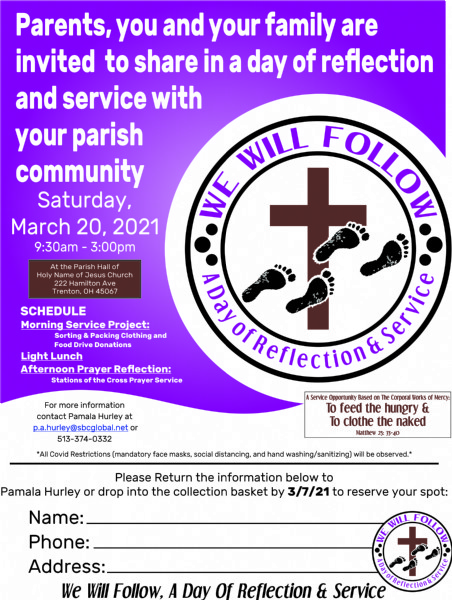 Flyer available here. for print out.
40 Days for Life! Spring Campaign Began Ash Wednesday and will continue throughout Lent, ending March 28. Prayer, fasting, peaceful prayer vigils are all part of 40 Days for Life. For more information on how you can get involved in helping to save the lives of the unborn go to www.40daysforlife.com
March- The month of St. Joseph!
For more information check here: https://www.catholicculture.org/culture/liturgicalyear/overviews/months/03_1.cfm
The Year of St. Joseph- Receive a plenary indulgence!
Archbishop Schnurr has designated the following three parishes to serve as tempory shrines during this year of St. Joseph: St. Joseph, North Bend (www.stjosephnorthbend.com); St. Joseph Dayton (www.stjosephdayton.org); and St. Jpseph, Wapakoneta (www.petersburgparishes.org). For more information, please check out the websites of these parishes.
Fr. Paul's Homily Oct 24-25, 2020
State of Our Parishes Click here

Click here to read Father Paul's letter to parishioners on restarting