Confirmation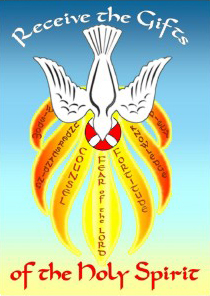 The Sacrament of Confirmation
The Sacrament of Confirmation perfects Baptismal grace, it is the sacrament which gives the Holy Spirit in order to root us more deeply in the divine filiation,
incorporate us more firmly into Christ.
The Sacrament strenghtens our bond with the Church, associates us more closely with Her Mission and helps us bear witness to the Christian faith in words and deeds.
(Catechism of the Catholic Church 1994 Reference 1316)
The Sacrament of Confirmation confers special gifts of the Holy Spirit upon the person being confirmed, just as such gifts were granted to the Apostles on Pentecost.
The sevents Gifts of the Holy Spirit are: Wisdom, Understanding, Counsel, Fear of the Lord, Fortitude, Knowledge, Piety.
Confirmation is offered every year in the 8th grade. Students who request this Sacrament are prepared through a special program
and must already be attending Religious Education classes, attending
Catholic high school or home schooled with supervision of the pastor. For more information please contact Kathy Menninger (513)988-9348
Adults wishing to receive the Sacrament of Confirmation are prepared according to a process designed specifically for their needs.
They may contact the parish office (513)988-6335 for more information.
https://files.stablerack.com/WebFiles/82002/CONFIRMATIONSPONSORFORM.pdf