Friday, January 17 - St. Anthony
St. Anthony embraced Gospel poverty as a hermit in the
Egyptian desert. Ironically, his lifestyle attracted many followers.
He is often called the father of monasticism.
Saturday, January 18
1 Samuel 9:1-4, 17-19: 10:1 Psalm 21:2-7 Mark 2:13-17
"As He moved on, He saw Levi the son of Alphaeus at his
tax collector's post,and said to him, 'Follow Me.'
Levi got up and became His follower." -Mark 2:14
Sunday, January 19 - 2nd Sunday in Ordinary Time
Isaiah 49:3, 5-6 Psalm 40:2, 4, 7-10
1 Corinthians 1:1-3 John 1:29-34
You "have been consecrated in Christ Jesus and called to be a
holy people." - 1 Corinthians 1:2
Monday, January 20 - Pope St. Fabian
St. Sebastian
Pope St. Fabian may have been the most unlikely Pope.
A Roman layman, he entered the ciry during a papal
election. Through divine providence,
the Holy Spirit chose Fabian!
Tuesday, January 21 - St. Agnes
St. Agnes's witness to virginity earned her a martyr's
crown. Throughout the history of the Church, she has been
justly honored as the patron saint of purity.
Wednesday, January 22 - Day of Prayer for the Legal
Protection of Unborn Children
Pray for the pre-born children and their families that they may be
protected and assisted in their physical needs and not destroyed
by the act of abortion!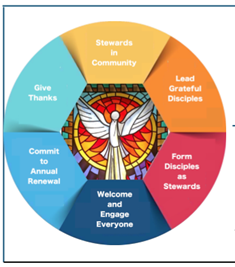 HOLY NAME OF JESUS
Class STEWARDSHIP IS A WAY OF LIFE "Grateful Disciples " Your Parish Stewardship Guide" by Leisa Anslinger
Please RSVP to Connie Schenck SchenckFam26@gmail.com or call the office 513-988-6335. Classes will meet in the Parish Hall.
| | | |
| --- | --- | --- |
| | Thursday, January 9, 2020 7 pm | The Vision: STEWARDS IN COMMUNITY |
| | Thursday, February 20, 2020 7 pm | LEAD GRATEFUL DISCIPLES |
| | Thursday, March 12, 2020 7 pm | FORM DISCIPLES AS STEWARDS |
| | Thursday, April 9, 2020 " 7 pm | WELCOME AND ENGAGE EVERYONE |
| | Thursday, May 14, 2020 7 pm | COMMIT TO ANNUAL RENEWAL |
| | Thursday, June 11, 2020 7 pm | GIVE THANKS. BE ACCOUNTABLE. |
INTERESTED IN BECOMING A CATHOLIC? - Contact Deacon Larry Gronas (513) 502-6266. Classes begin Tuesday, August 20 at 6:30pm in the church basement
FOR YOUTH GROUP MINISTRY, CONTACT Pam Hurley (513) 374-0332
Confirmation
On Sunday, April 19 at 2:00 the Sacrament of Confirmation will be celebrated at St. Peters In Chains Cathedral in Cincinnati. This year Holy Name will be offering the sacrament to all 7th as well as all 8th grade students of families registered in the parish. Please contact Pam Hurley if you have a child who would qualify as a candidate for confirmation.
Contact: p.a.hurley@sbcglobal.net or (513)374-0332.
We Remember, We Celebrate, We Believe
We remember how you loved us to Your death,
and still we celebrate, for You are with us here.
And we believe that we will see You when You come in Your glory, Lord,
We Remember, We Celebrate, We Believe.