Mass Schedule & Readings
The Mass readings for Sunday, January 29, 2023: 
Fourth Sunday in Ordinary Time | USCCB
Mass Schedule for Holy Name:
Weekend:
Saturday - Vigil Mass: 5:00pm
Sunday Mass: 9:30 am
Weekday Mass:
Monday, Wednesday and Thursday
            8:30 am  
Mass and Confessions Schedule for our Family of Parishes: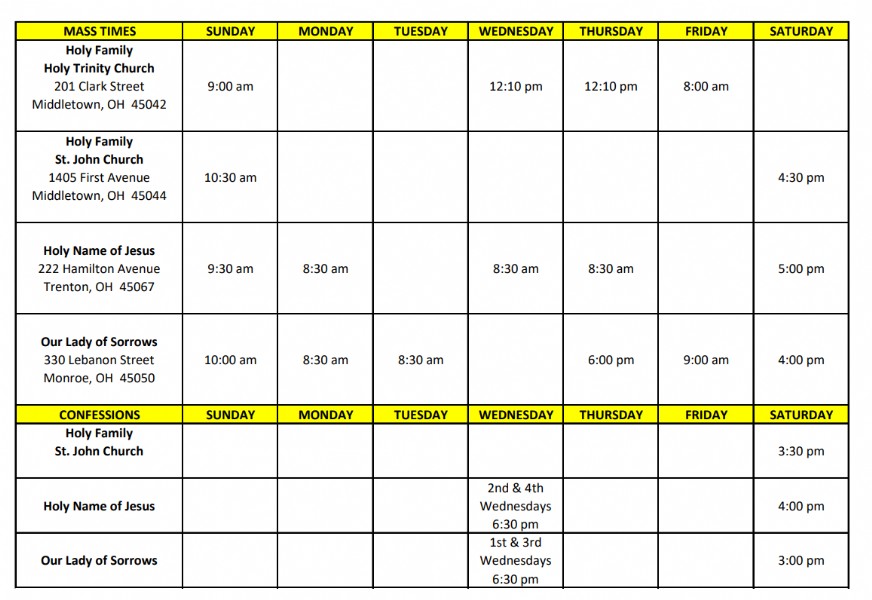 Beginning with the Sunday Masses of June 6, 2021 (including the anticipatory Mass on Saturday, June 5), Archbishop Schnurr is reinstating the obligation to attend Sunday and Holy Day Mass for the faithful of the Archdiocese of Cincinnati.
Vacation time! Traveling? Need to find a Mass near you?
Here are some resources to help you as you travel this summer:
or
Tithing/Weekly Collection- Please remember to support the parish during this time. The bills still need to be paid so your financial support is still needed and appreciated. You can mail in your weekly envelopes or drop them off at the office. Electronic giving can safely be done from your home by using the yellow GIVING button at the bottom of the page.  No login is necessary. One time donations are ok.